Innovating commerce in the time of COVID
---
European consumers are still anxious about shopping in stores, and retailers are having to seek innovative new ways to attract customers.
70% of British consumers
say they wouldn't feel comfortable shopping in store.
58% of Italians
have avoided going to stores since the end of quarantine.
49% of French people
have avoided going to stores since the end of quarantine.
COVID-19 is pushing traditional retailers to innovate
As the pandemic has pushed more consumers online for grocery shopping, many brick-and-mortar retailers are exploring their own online offers in order to meet this new trend, even as it is expected to persist post COVID.
Lidl's owner Schwarz Group has acquired real.de, one of the largest online marketplaces in Germany. The marketplace sells everything from clothing to groceries.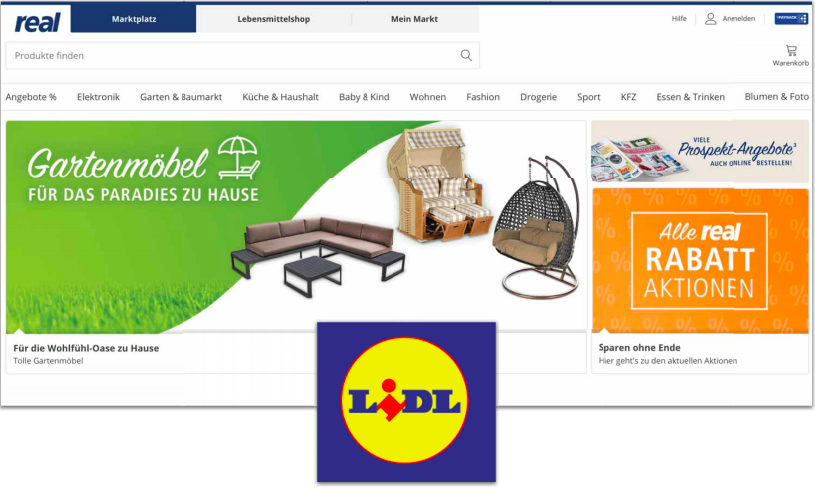 Ikea in Poland collaborating with Decathlon to encourage people to do sports during lockdown
Decathlon and Ikea decided to reunite their forces and encourage Polish consumers to take up a sports activity in a co-joint campaign.
The brands initiated an exchange, motivating each-other and its respective clients to take up a physical activity while staying at home, as well as taking care of their sports equipment and its proper storage. The dialogue then continued in the social media, where Ikea and Decathlon were mutually teasing each-others with challenges and punchlines in the posts and comments.
The messaging clearly communicated how respective products of both brands could provide value for the customer when used together.
The joint social media and OOH campaign from Ikea and Decathlon is also a proof of how two brands can pool the resources to connect their separate brands in a mutually beneficial campaign and exposing its products to a new audience in an engaging way.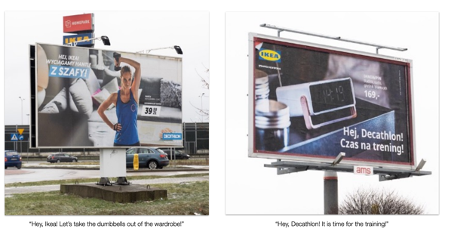 Sports retailer, Decathlon in Belgium, has introduced a novel concept called Decamobile, a converted van that now serves duty as a sales and ordering point for its market. 
Customers in Antwerp have been able to test and all kinds of sports equipment live from the Decamobile. "Our survey of 50,000 Antwerp residents showed that 15% of older people are less likely to come to physical stores during the outbreak," says Mathieu Renier of Decathlon. "They asked to bring the store to them (…) so here we are." 
The Decamobile team will also host workshops where customers can learn how to repair their bikes. The concept will be rolled out over other Flemish municipalities.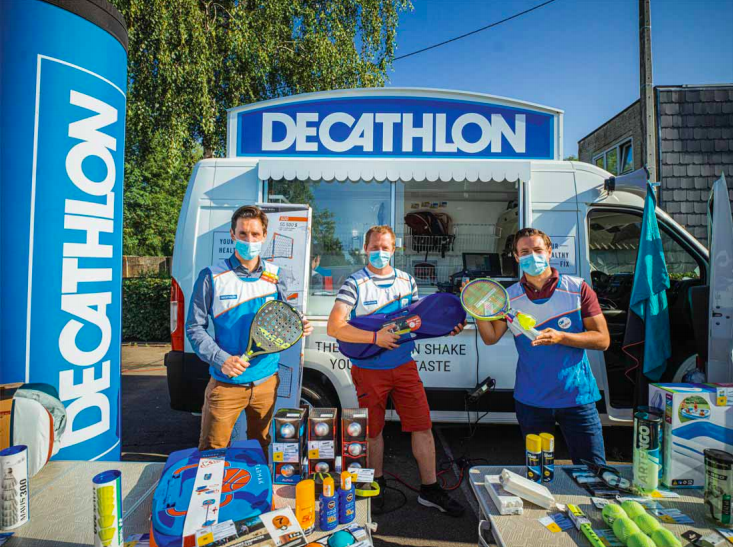 A similar concept has arrived in the Netherlands, where Blokker decided to meet their customers with its "neighbourhood bus." The bus will allow Blokker to install its point of sale for a day in any district of the Netherlands.
Meeting demands in a post COVID society
The French branch of Decathlon in the meantime has done some thinking around the issue of riding the bus – a source serious concern at a time when physical distancing is still recommended.  
It has announced the launch of "Decathlon Rent," a short-term bike rental subscription with no commitment required. The principles are simple: users can rent a bike via subscription from 15 euros per month. The subscription can be cancelled any day on Decathlon's website and the rented bike will be guaranteed against thefts and breakages. 
The demand for bicycles is on the increase, as revealed by the new IFOP analysis of search terms on the biggest e-commerce platform in France – Leboncoin. The test of Decathlons' rental service will be held initially in Paris and Lyon, and if it proves a success, be extended throughout the country. 
New partnership to serve the e-grocery demand
Online food delivery has consolidated with retail and has become an important revenue arm during the pandemic. The crisis incited the creation of new type of partnership between traditional retail and once disruptive start-ups specialized in restaurant delivery like Deliveroo, UberEats, JustEat or Glovo. 
Grocery delivery through these platforms was the best solution for many supermarkets struggling to meet the never seen before demand for e-grocery and a way to serve the customers. 
According to Uber Eats the grocery delivery on its platform jumped 59% across Europe in March compared with February as countries locked down to fight the coronavirus. 
In France, Uber Eats partnered with one of the biggest supermarkets in the country, Carrefour, with the goal to help Parisians obtain food, toiletries and cleaning products within 30 minutes as an average delivery time.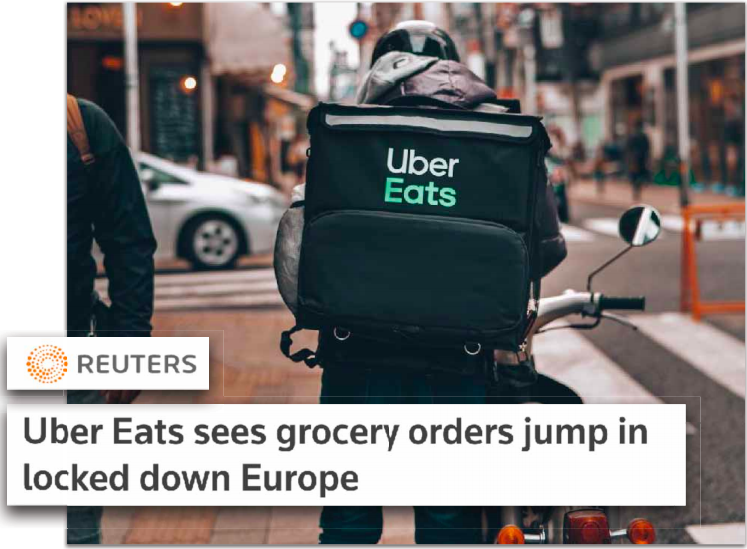 In the UK, Deliveroo has partnered with Aldi, Marks & Spencer, Co-Op, Morrisons and McColl's, while in France with Monop' and Parisian convenience store Franprix. In Poland, the discounter Biedronka delivers groceries with Glovo, as well as Dia Supermarket in Spain.
In the UK, Aldi has partnered with Deliveroo to offer a 30-minute delivery service. The Supermarket Chain, which has never sold groceries online before, enables customers to do their grocery shopping from a list of 150 items on the Deliveroo app, and get the package delivered to their door 30 minutes later.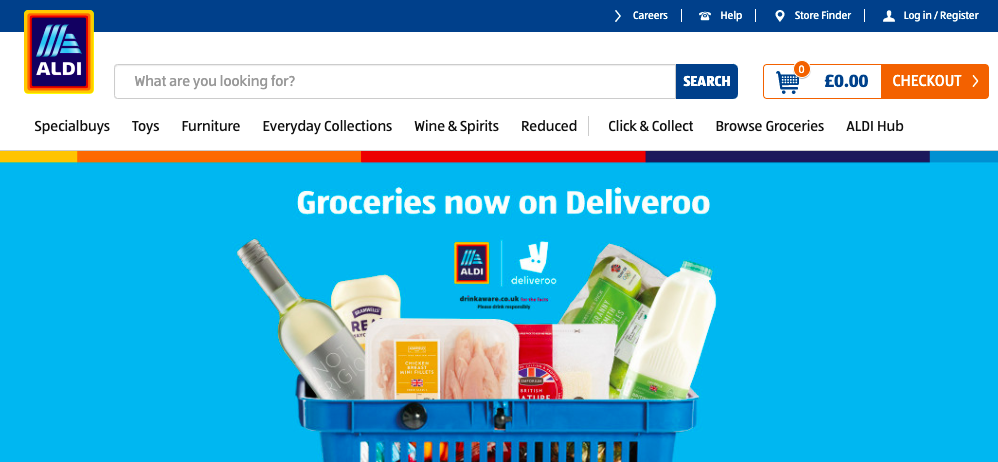 WhatsApp enters the payment services fray
Riding on its massive success as a way to stay connected with friends and family, WhatsApp has launched its own payment service, beginning in Brazil. 
Facebook-owned WhatsApp announced mid-June that it would be launching WhatsApp Pay in its second largest market (India being the Largest), enabling Brazilians to send and receive money by way of its app by linking up their WhatsApp account with their Visa/Mastercard card. 
Contactless payment has found an unprecedented spotlight as the pandemic pushed consumers and brands to look for safe ways to pay in-store. A trend that seems to be set to go on in the coming months.