Fighting overproduction: the shift to thrift
---
During times of economic uncertainty, even more consumers shift to thrift. Resale delivers value when household budgets shrink in time of the pandemic. And that doesn't concern only fashion.

Ikea launches its "Buy Back" initiative
Ikea will soon sell pre-used versions of its best sellers. The Swedish retailer will launch a global buyback program of unwanted furniture items as a stand against excessive consumption. Customers will receive an Ikea refund card for the furniture sold back.
The initiative, called "BuyBack," will be rolled out in 27 countries (UK, Australia, Canada, France, Germany, Italy, Japan) ahead of Black Friday.
"By making sustainable living simpler and more accessible, Ikea hopes that the initiative will help its customers take a stand against excessive consumption this Black Friday and in the years to come," said the company in a news release. Over the last year, the retailer has committed to embrace sustainability and act to promote more an eco-friendly consumption, and Black Friday has become the antithesis of sustainable business.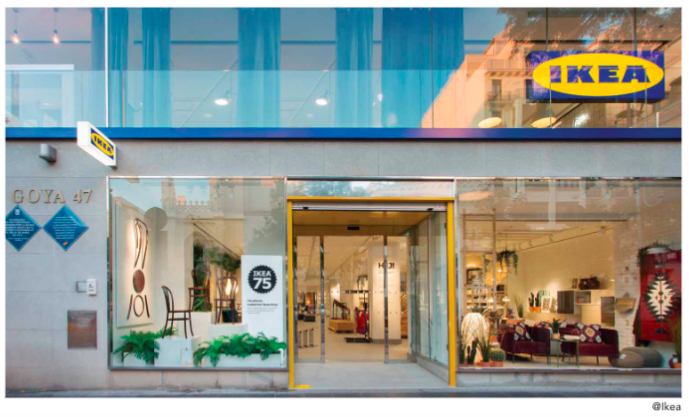 Levi's and Nike second-hand services and buy-back schemes
In the United States, Levi's is introducing both a second-hand fashion service and buy-back scheme, as it looks to close the loop on its durable denim. Through this newest service, the brand will offer US$ 15-US$ 25 for denim garments that can be placed directly on its online resale platform, and a US$ 5 voucher for more worn-out goods, which can be redeemed on future purchases.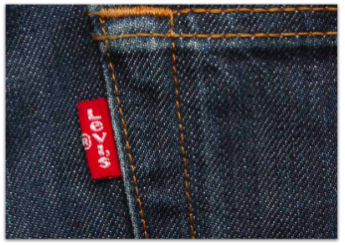 Nike launched a new circular consumer offering called 'Nike Refurbished', to resell returned shoes at discount prices. Once shoppers have returned their pair of shoes, items are inspected and refurbished. Then Nike Refurbished sorts the eligible ones into different categories: like new (worn once or twice only), gently worn (worn a bit more), cosmetically flawed (a little scratch is possible). Concerning ineligible products, they are donated via partners or even recycled thanks to Nike Grind Program. The offer is now available in 15 US stores. Customers can find the type of shoes and their condition grade written on the box, and even scan a QR code to get more information about 'Nike Move to Zero' climate commitment.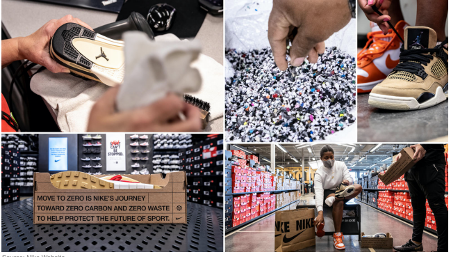 Gucci, another luxury house on TheRealReal
Gucci has announced a partnership with the luxury consignment site The RealReal. By the end of the year, the reselling platform will have a dedicated portal on its site for Gucci products.
Some of them will be consigned by The RealReal's customers and some of them will be supplied by Gucci, providing products used for photoshoots that were never sold. Gucci is another luxury house after Stella McCartney and Burberry to sign a deal with The RealReal – and the latest sign that luxury companies do not ignore the booming second-hand market.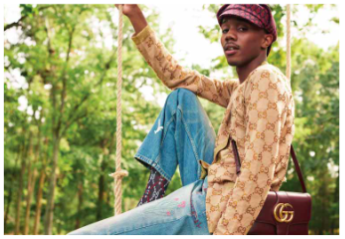 H&M launches recycling machine
In Stockholm, H&M consumers can now have their old clothing transformed into a totally new item. Thanks to the recycling machine called "Looop," it takes only a few hours to repurpose old clothing into brand new garments.
Looop uses a specific technique that disassembles and reassembles old garments, which are then cleaned, shredded into fibres and spun into new yarn to be finally knitted into new fashion finds. The machine is shown to the public to encourage them to recycle their clothing. Looop is H&M newest initiative and a prove that clothing recycling works and a part of H&M group's ambition to become fully circular and climate-positive by 2040.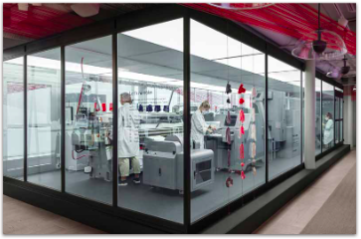 Retailers against food waste
According to the United Nations study, 1/3 of all food produced globally goes to waste, which amounts to more than one billion tonnes of waste around the world. Since 2016, the mobile app Too Good to Go aims to put a dent in that waste, by connecting users with local restaurants and shops that seeks to sell its perfectly good leftover food at a much cheaper price.
As a part of their newest campaign, Too Good to Go in Poland partners with Carrefour, Makro, Natura, Pizza Hut or Starbucks who decided to partially cover the logos in the social media. The campaign was also supported by many local influencers who posted partially covered pictures on their feeds, as a part of the movement against the food waste.