Crisis gives common
voice to communities
and small business
---
Small businesses are some of the most harshly hit by the COVID crisis. As a result, many of them are finding new ways to elicit support from local communities, who are in their turn coming forward to help.
In Denmark, creative food lovers and tech developers are working to develop solutions to save local restaurants and business from closing. 
The website Your local hero was designed and built 12 hours, as a response to local communities coming together to support restaurants in Copenhagen, Malmo and Helsingborg, and allows the purchase of digital gift vouchers from the restaurants. The vouchers contribute to the restaurants turnover during the lockdown, with users being able to use them once the crisis has ended.   
A similar initiative has been launched in France, with the website Save our shops enabling consumers to buy vouchers from small clothes stores, small restaurants. 
In the United States a small start–up specialising in custom photo experiences decided to launch a project that could save them from crashing, and help other local business around the country stay above water. 
Keep your city smiling is an online platform that displays boxes that gather products from various cities' (LA, Seattle, Portland, San Francisco) local businesses. The direct-to-consumer initiative offers small companies good exposure and precious support to face the current struggle.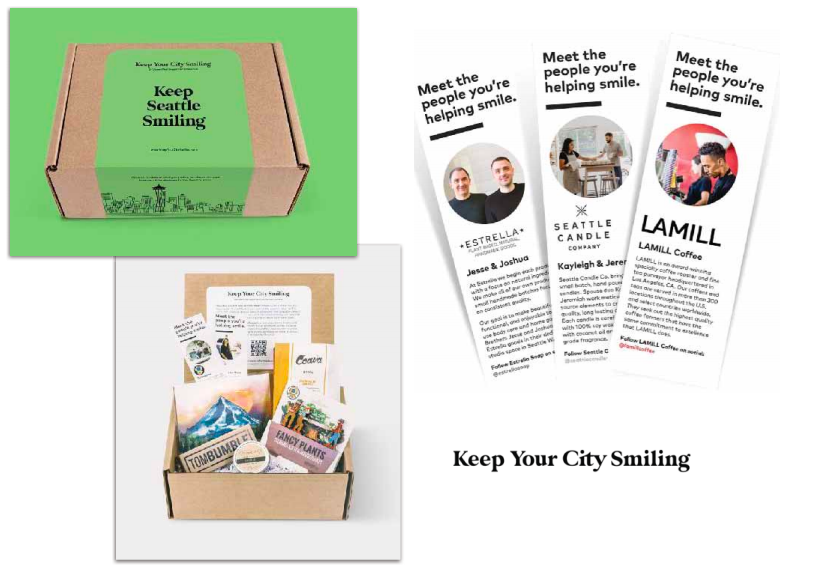 Actions like these were undertaken in many other countries around the world. It helps the owners to continue to pay their employees and bills, and the users can look forward to a cosy afternoon in their favourite café.