Drone delivery –from gadget to mainstream
---
What was once considered an experiment in the future of delivery, has now become a mainstream consideration thanks to COVID.
At the beginning of April 2019, Project Wing, owned by Alphabet and specializing in developing drone delivery services, launched the very first commercial air delivery service in North Canberra in Australia, providing its customers with fresh groceries, medications and hot coffee from several local businesses. The Wing application allows shoppers to command and receive delivery within 30 minutes.
The successful testing in Australia has resulted in the expansion of Wing in the United States; The Federal Aviation Administration has certified Alphabet's Wing Aviation to operate as an airline. This signifies that Wing can begin a commercial service delivering goods from local businesses to homes in the United States.  
For now, the Company will operate in Blacksburg, Virginia, delivering commercial packages weighing up to 3 pounds using their 11-pound vertical-lift aircraft. By developing these delivery drones, Alphabet aims to reinvents the retail delivery system that will connect customers with local merchants, and put Alphabet in direct competition with Amazon's unmanned delivery service, Prime Air.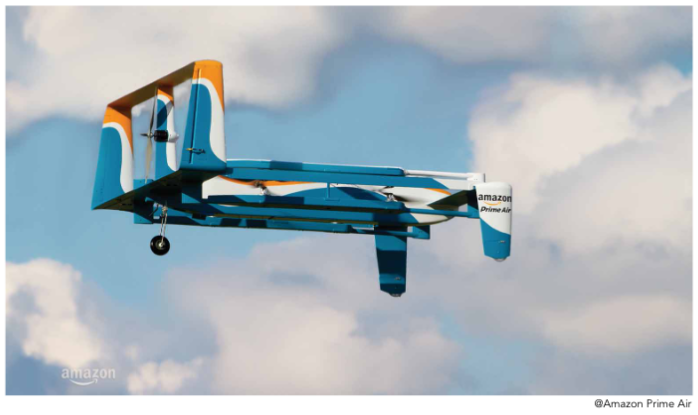 Microsoft bets on autonomous flights.  
 The Project AirSim is the name of the platform launched by Microsoft to impulse AI-powered flights. AirSim offers better use of Data, IA, and libraries of simulated 3D environments representing various urban and rural landscapes. It has made possible simulations to train autonomous aerial vehicles. With AirSim, Microsoft can test how well drones work when it rains or snows, or if strong winds or high temperatures would affect battery life.
Uber Eats is currently testing out an autonomus delivery system
The food delivery app is testing an autonomous delivery solution in Santa Monica (California). To do so, the brand is partnering with Motional a company co-created by Hyundai and Aptiv. For now, no details have been released about this first
trial. The autonomous vehicle selected for this mission should be the Hyundai IONIQ 5 from Motional. This category of autonomous vehicle doesn't require any human intervention. As consumers are waiting for more convenience and
rapidity, many of these solutions are currently being tested in major cities. It will also be a way of responding to the growing
competition from quick commerce players who are pushing other delivery operators to redouble their efforts to remain in the race.
The disappearing ice-cream trucks of our youth 
Who hasn't rushed gleefully into the street after an ice-cream truck? Well now thanks to a partnership between Unilever (the parent company of Ben & Jerry's) and a drone start-up Terra Drone Europe, ice-cream might soon be delivered by drone. Both Companies are testing of drone–delivery in New York. A press release stated that the Partnership is preparing for a drone logistics service that will deliver products to more customers faster. 
Regulations around future drone flights are expected to become more flexible, notably with the first commercial drone deliveries launched in Australia and in some areas of the United States. The race to develop delivery drones has well and truly begun, with Amazon, Uber, Google and many other smaller drone technology start-ups, ready for take-off. The future of will largely depend on how quickly legislation can be established where it is lacking in most countries around the globe.
Amazon is the first company to receive FAA certification, after UPS and Alphabet's Wing. The US Federal Aviation Authority (FAA) has designed the retailer an "air carrier," paving the way for Amazon to start testing commercial drone flights capable of delivering packages.  
Jeff Bezos has been talking about done delivery since 2013, and his vision could finally become a reality. The company will have to submit evidence of the safety of the operations to the agency.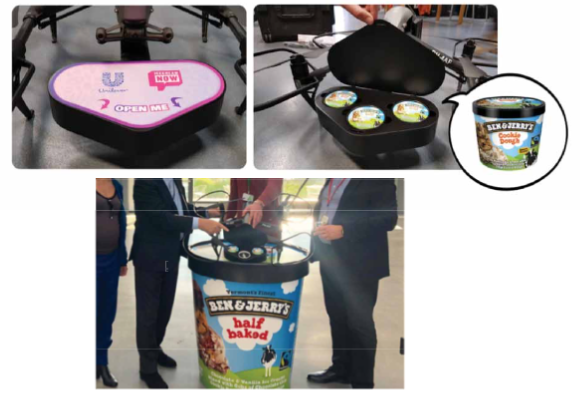 A boost for unmanned delivery
JD.com is also using drones to deliver goods to customers in China, at a time when the country is virtually shut down to prevent further spread of the Covid-19 coronavirus. Apart from mobilizing resources to provide immediate support in the fight against the virus, the Company is launching robot and drone deliveries using its AI technology to facilitate last-mile delivery.  
JD.com has previously used self-driving vehicles to deliver batches of goods to a hospital in the Wuhan province. Drone delivery is part of JD.com's initiatives to ensure timely and safe shipments during a critical time. 
On the other side of the globe, Google's Wing drones are used to deliver essential products in the US such as toilet paper, baby essentials and medicine to residents in lockdown in Virginia. Wing works with FedEx and Walgreens to deliver household essentials and has also added a local bakery and coffee shop to expand offerings during the pandemic.