How technology is reshaping fashion retail
---
Fashion has had to adapt more than any other sector to the current situation, coming with innovative ways of showcasing the new collections. Virtual showrooms are about to sweep online fashion shopping.
TikTok holds its own fashion month
While fashion shows are perturbed due to social distancing, TikTok wants to establish itself as a major digital channel for the luxury sector alongside historical social networks. TikTok is moving to fill the void with its very own online fashion month and has announced that it is partnering with luxury giants like Louis Vuitton or Saint Laurent to bring users a series of live-streamed runway shows, exclusive drops, capsule collections, styling tips and even an after party. Brands are constantly looking for new ways to reinvent the fashion industry and TikTok is progressively establishing its position as a go-to place for fashion and style.
Welcome in the virtual showroom
The visitors of Hyperoom can move around the virtual space and check out merchandise in 360-degree views. Clicking on products pulls up windows of information and rotatable images. The brand paid particular attention to its hallmark denim products featuring high-quality multimedia.
The launch arrives as the fashion world looks to ways of facilitating changes without physical venues. The Parisian luxury house – Balmain announced the opening of a virtual showroom featuring the new collection with a 3D avatar of the house's designer Olivier Rousteing that will guide the visitors around this virtual journey.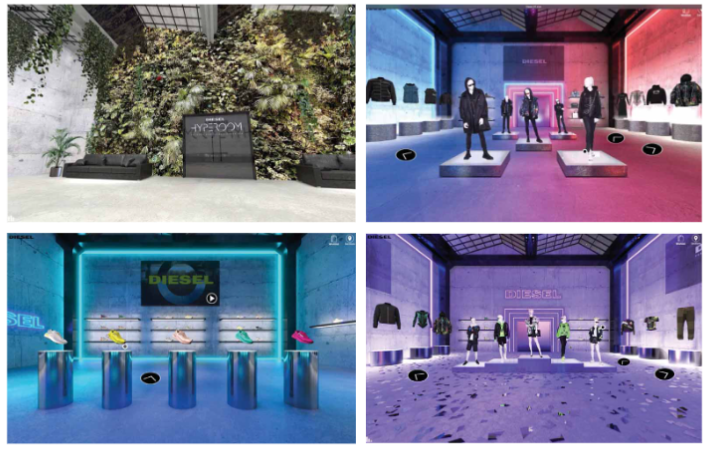 French luxury maison Dior has revealed its newest AW2021 Haute Couture Collection on 6 July, 2020, via a digital showcase. At 16:30 GST, Dior live-streamed a poetic film directed by Matteo Garrone that presented the complete collection.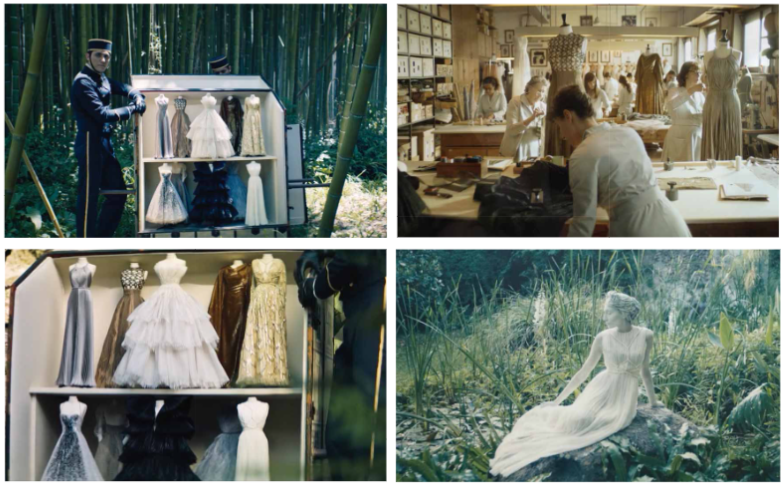 New fitting solutions for fashion industry
Gucci reveals Snapchat AR sho- try-ons. Snap Inc has unveiled an augmented reality shoe try-on this month, and Gucci has become the first brand to step into the tech. The luxury fashion Brand featured an AR lens in- app that overlayed a digital version of its shoes onto a smartphone user's feet, along with a "shop now" button. Gucci also sponsored a limited-edition pair of Snapchat Spectacles, the company's camera-equipped wearable, in a collaboration with director and visual artist Harmony Korine.
Zoot, a Prague-based fashion app, has launched a new taxi service that enables customers to order a set of clothes to try on at home. Taxis visit customers within a day, and follow all the necessary sanitary measures to keep the drivers, surfaces and clothes clean.
Bold Metrics, a start-up specializing in body-data, has announced the development of Contactless Fit, an AI-powered solution for apparel brands to connect customers to clothes that fit them best according to individual body shape and size.
Customers simply answer 4-6 questions, either on a stand-alone tablet or directly on their phone. Bold Metrics uses eight years of data and best-in-class machine learning algorithms to accurately predict a customer's best size. Contactless Fit is a first-to-market solution by Bold Metrics that easily integrates into the in-store experience to help shoppers find the right size without ever physically trying on the clothes.
Facebook seizes opportunity from Amazon
Facebook has taken another step into social commerce and introduced a new feature called Facebook Shops, allowing smaller retailers to turn their social media profiles into digital webshops. Small retailers can set up a single storefront that gives them a presence on Facebook and Instagram, with the ability to engage in conversations with customers via WhatsApp, Messenger and Instagram Direct messaging tools.
Facebook Shops not only enables retailers to upload their catalogue through Facebook-owned platforms but also introduces the ability to do Live Shopping – selling products via live-streams with influencers. Facebook Shops empowers smaller businesses by allowing them to be present online. At the same time, the new feature accelerates the adoption of the shoppable features on Facebook's own platform, which has been under from Amazon in recent years.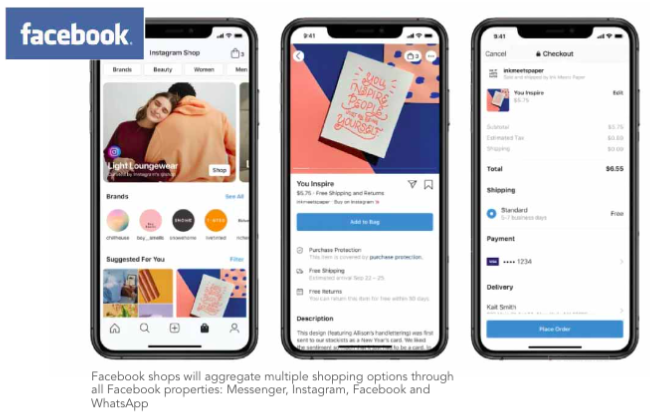 Gamin – a hot new advertising platform for fashion brands
Fashion brands have flocked to the virtual world during the pandemic, and one of the hottest fashion spots is a virtual animal village in Nintedo's game Animal Crossing: New Horizons. Companies like Net-a-Porter, Gucci, Dior and Burberry are seizing on a feature that lets people dress their avatars in custom clothing.
100 Thieves – a lifestyle and e-sports organisation where apparel drops are notoriously hard to get into – made the decision to release its entire collection in-game. The frenzy for branded skins and avatars in-game is so intense that Animal Crossing is seeing the rise of influencers specializing in Animal Crossing fashion. The Instagram account, Animal Crossing Fashion Archive, showcases all the best in-game fashion pieces.
This pique in interest for digital fashion comes at a time when the pandemic has increasingly been forcing the industry, from fashion weeks to photoshoots, online. The biggest video game of the lockdown has become a new home for fashion lovers only confirming the acceleration of gamification trend in the fashion industry.
Reference Festival, a Berlin-based fashion organization, is taking Animal Crossing's fashion potential one step further with a virtual fashion show of Animal Crossing avatars dressed up in current season looks inspired by Loewe, Prada, and GmbH.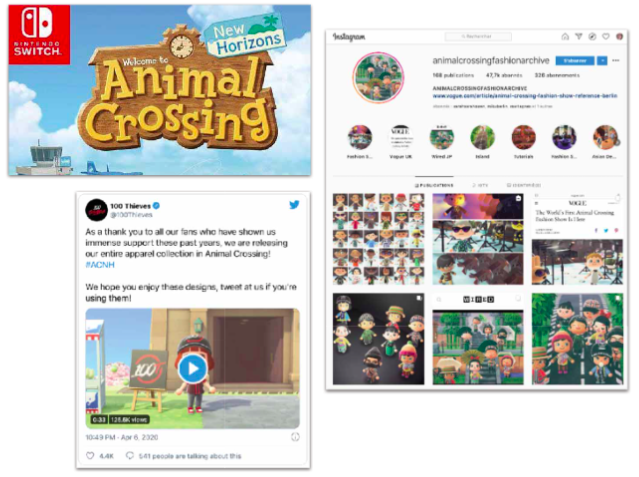 Pinterest rolls out AR to allow try-before-buy
Pinterest, the inspiration platform, launched a new feature in January 2019 called Try On, available on its mobile app. Powered by Lens, Google's object recognition technology, the feature will allow people to go look further than merely for inspiration, by enabling them to virtually "try on" different shades from brands like Estée Lauder, Sephora, Neutrogena, Lancôme.
Users can try out looks that they have seen on Pinterest thanks to the "see similar looks" button. Of course looks are saveable using Pinterest's native technology.
The AR feature helps Pinners to explore various looks, discover products and reduce the apprehension that could come with buying a product without testing it. According to an eMarketer study, Pinterest was the first social network used for finding/shopping for products in the USA, as far back as 2018.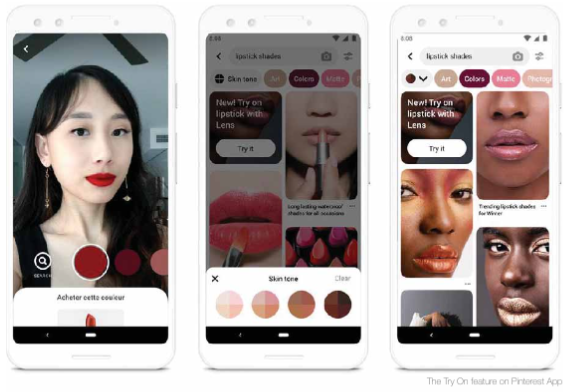 GOAT's AR feature has us "trying on" the hottest sneaker drop
With about 20 million users, GOAT has become the global e-commerce destination for authentic sneakers. The Company launched an augmented reality first-look at rare sneakers that allows users to match sneakers with their own personal style.
The AR option gives users a look at the materials and textures in great detail. Ideal for sneaker-heads, the models available are among the most exclusive drops. The benefit for users is immediate: they can experience the rarest and most desired a kicks simply by pointing the smartphone lens on their feet.
"Product innovation has always been an integral part of our business and after early success with our previous AR launches, we knew Try-On was something we had to offer to our community," said Daishin Sugano, co-founder and CPO of GOAT Group. The new feature is a gift for sneaker culture, as it showcases world's rarest sneakers and promises the customers a small taste of what it's like to wear the world's rarest shoes, like Air Jordan 4 "Undefeated" available for $23,000.
Apple develops direct shopping in augmented reality
Apple has just presented an update to its Quick Look tool, allowing iPhone users to check out products in AR and buy them directly through the augmented interface. Apple debuted Quick Look in 2018, with limited functionality. Retailers such as Wafair and HomeDepot could upload flat stickers and 3D product models for users to view in an augmented environment.
The latest update creates a more fluid experience, since users are no longer obliged to exit out of the Quick Look screen and return to the retailer's website in order to purchase a given product; a direct shopping button now allows quick purchase via Apple Pay. Newly added functionality also allows customers to locate the nearest store and contact customer service.
Much like Google's service-oriented AR tools, Apple is changing the retail game with AR updates that improve the customer journey and make shopping seamless.