The rise of autonomous
robot delivery
---
Exploring new vending formats through autonomous robot delivery is a part of a bigger trend, as companies like General Motors, Ford, Walmart, FedEx and many more, are already actively searching for innovative ways to reach the consumers on the last kilometre.
The coronavirus could be changing how people live, work and study long into the future. In China, it has accelerated some technological and digital projects that were in the phases of tests before the outbreak.  
Chinese food delivery giant Meituan Dianping launched an unmanned delivery programme for its e-commerce grocery offer.  
Meanwhile, JD.com has been delivering medical supplies via autonomous vehicles in the city of Wuhan and food delivery service owned by Alibaba – ele.me deployed delivery robots to send meals to rooms in quarantined hotel in the eastern Chinese city of Wenzhou. 
In Russia, supermarket chain VkusVill plans to install its vending machines, called VkusVill Micromarkets in the entrances of residential buildings in Moscow and St. Petersburg to serve shoppers during the lockdown.  
The company has open online application forms on which the interested residents of housing buildings of 100 apartments can apply for the installation, which will be free. The machines will be able to stock about 70 Vkusvill products.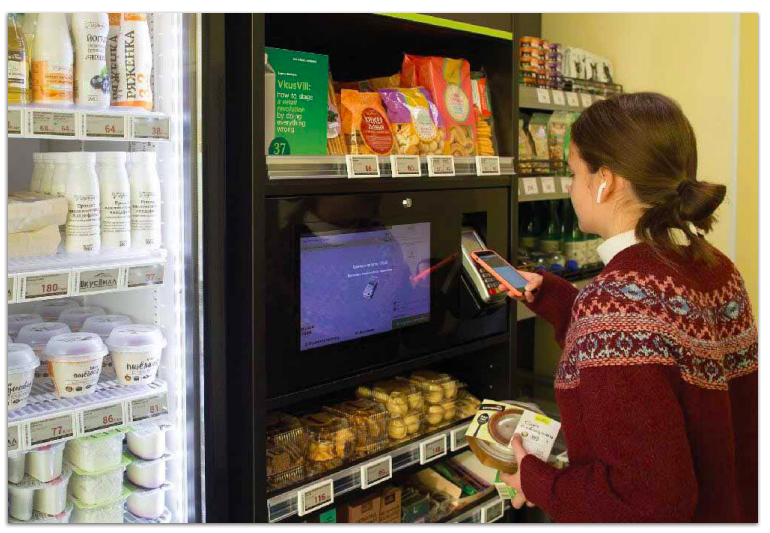 Domino's, the largest pizza retailer, is currently testing out an autonomous delivery system at one of its store in Houston. Some lucky customers will have the opportunity to be delivered by R2, Nuro's self-driving robotic vehicle. To participate, customers have to place a prepaid order to the Houston store's website. The selected customers will receive a sms notifying them of the delivery and will be then able to follow R2 location via GPS. Once the vehicle has arrived, customers receive a personal PIN to enter in a touchscreen, which opens the door of the vehicle and allows the customer to pick its pizza. The pizza retailer is clearly trying to improve its last kilometer strategy.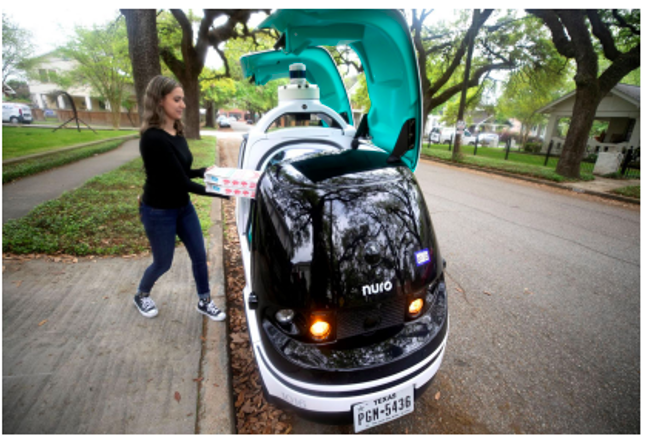 PepsiCo's snackbot is off to college
PepsiCo has teamed up with Robby Technologies to operate a team of self-driving vending vehicles on the campus of the University of the Pacific in Stockton in California. 
The Pepsi snack robots are basically remote vending machines that can roll out around the campus autonomously. Students and staff can order the robots to deliver snacks via PepsiCo's Hello Goodness app. 
The Hello Goodness range of healthier products and snacks was launched in 2015, and has been boosting PepsiCo's e-commerce and vending business ever since. Says Scott Finlow, the VP of innovation and insights at PepsiCo Foodservice, "Building upon the initial successes of our Hello Goodness platform, we began exploring how we could expand from more traditional vending machines into new formats."